THE ART OF PERSUASION
MONDAY, MAY 21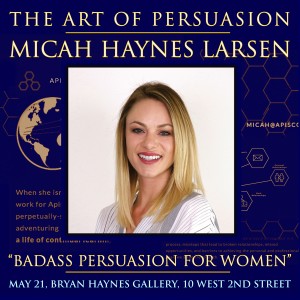 Persuasion scientist Micah Larsen will lead an interactive workshop for women who would like to learn to be more persuasive. Attendees will leave this workshop with a new set of easy-to-use persuasion skills they can apply to leadership, fundraising, management, and more. Please join us for the presentation, drinks and appetizers on Monday evening, 6:30 to 8:30 PM.
For more information, please email Petra: interpetra@aol.com
Tickets are $25 per person, limited to fifty guests.