THE ART OF WILDLIFE PHOTOGRAPHY / SECOND PRESENTATION
SATURDAY, JULY 21, 7:00 to 9:00 PM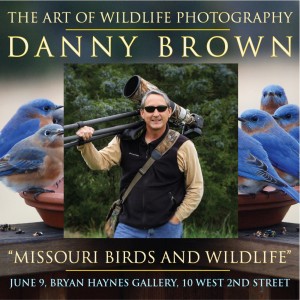 Bryan Haynes Gallery Presents: Danny Brown, The Art of Wildlife Photography, "IMAGES AND ANECDOTES". Please join us for a wonderful evening of storytelling and slide presentation. Having contributed over 50 stories about his wildlife photography adventures to Missouri Conservationist magazine, Danny Brown will present anecdotes and images captured over the last decade as a renowned freelance photographer.
Enjoy gourmet popcorn, and "Bring Your Own Beverages". Hand-made birdhouses will be on display by Butch Rogers.
WE ARE SOLD OUT. Thank you everyone for your support.